Family Office and Closely Held Business Group
Cummings & Lockwood counsels private clients and their family offices and closely held businesses on an array of legal matters, ranging from entity planning and family governance issues to advising on the management of diverse investment portfolios, family trust structures and private foundations which are often part of large family offices. We also assist with the formation of closely held businesses and investment vehicles, including those with concentrated real estate or securities holdings.
The firm's general focus on private clients enables us to advise families on their immediate financial and investment goals, as well as on their long-term estate and charitable planning strategies.

We offer clients a multi-disciplinary approach to managing family offices and closely held businesses and deliver services that are tailored to their specific legal, business and personal circumstances, needs and objectives.
Our core services include: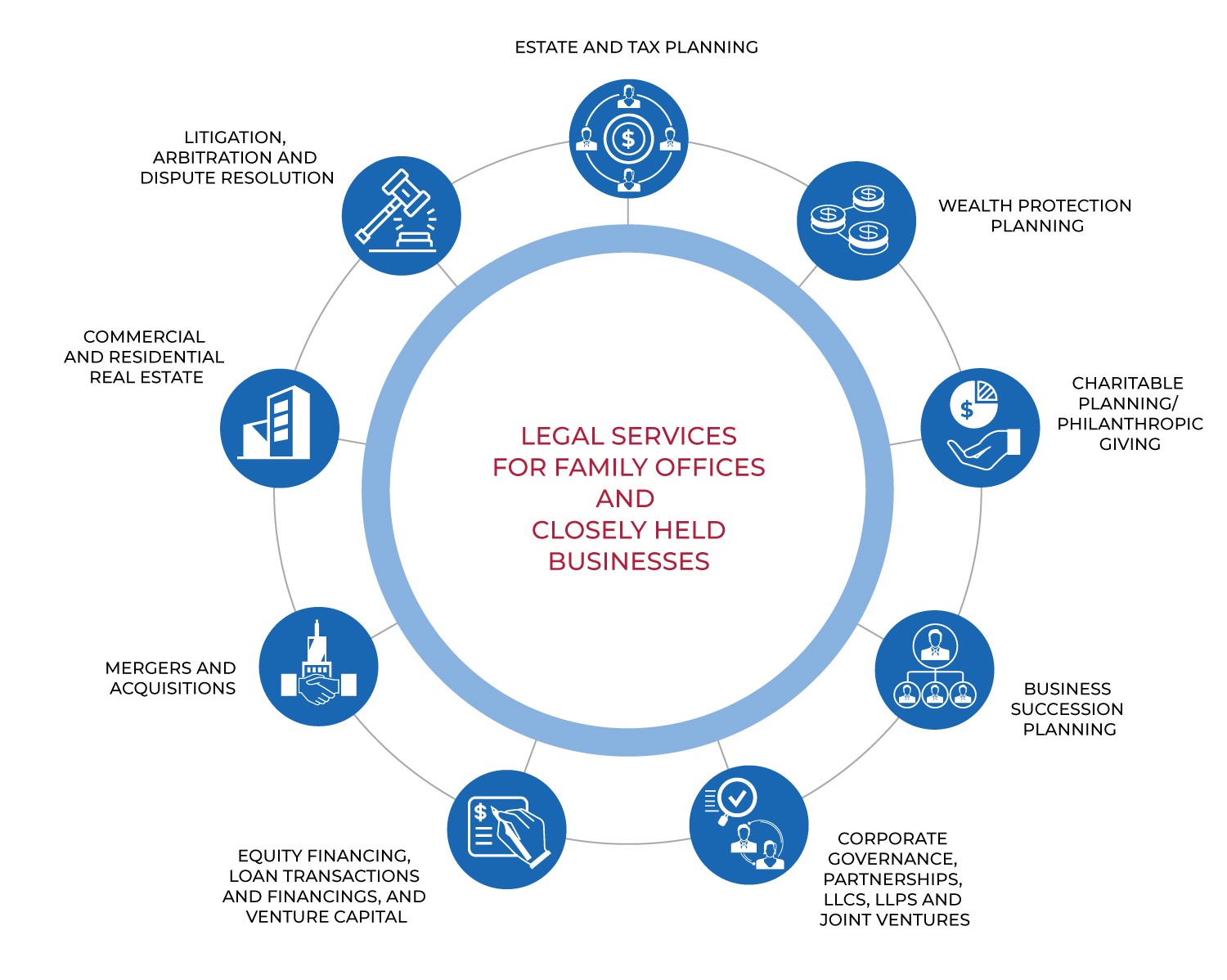 Name
Title
Practice Group
Office
Phone
Email
vCard

Chairman and Managing Director

T203.863.6590

F203.862.2610

Chairman and Managing Director
Private Clients Group, Family Office and Closely Held Business Group
Greenwich, CT
203.863.6590

Principal

T860.313.4930

F860.313.4972

Principal
Private Clients Group, Family Office and Closely Held Business Group
West Hartford, CT
860.313.4930

Principal

T860.313.4936

F860.313.4961

Principal
Private Clients Group, Family Office and Closely Held Business Group
West Hartford, CT
860.313.4936

Principal

T203.863.6554

F203.862.2609

Principal
Private Clients Group, Family Office and Closely Held Business Group
Greenwich, CT
203.863.6554

Principal

T860.313.4946

F860.313.4960

Principal
Private Clients Group, Corporate & Finance Group, Family Office and Closely Held Business Group
West Hartford, CT
860.313.4946

Principal

T203.863.6511

F203.862.2606

Principal
Private Clients Group, Family Office and Closely Held Business Group
Greenwich, CT
203.863.6511

Counsel

T561.214.8508

F239.430.3366

Counsel
Private Clients Group, Family Office and Closely Held Business Group
Palm Beach Gardens, FL
561.214.8508

Principal

T239.390.8068

F239.390.8088

Principal
Private Clients Group, Family Office and Closely Held Business Group
Bonita Springs, FL
239.390.8068

Principal

T203.351.4106

F203.708.3805

Principal
Litigation Group, Family Office and Closely Held Business Group
Stamford, CT,
Palm Beach Gardens, FL
203.351.4106, 561.312.7880

Principal

T239.649.3178

F239.430.3555

Principal
Private Clients Group, Family Office and Closely Held Business Group
Naples, FL
239.649.3178

Counsel

T239.390.8060

F239.430.3347

Counsel
Private Clients Group, Family Office and Closely Held Business Group
Bonita Springs, FL
239.390.8060

Principal

T203.351.4100

F203.708.3887

Principal
Commercial Real Estate Group, Corporate & Finance Group, Private Clients Group, Family Office and Closely Held Business Group
Stamford, CT
203.351.4100

Principal

T203.351.4343

F203.708.3954

Principal
Private Clients Group, Family Office and Closely Held Business Group
Stamford, CT
203.351.4343

Principal

T203.863.6504

F203-862.2612

Principal
Private Clients Group, Family Office and Closely Held Business Group
Greenwich, CT
203.863.6504

Principal

T860.313.4919

F860.313.4979

Principal
Private Clients Group, Family Office and Closely Held Business Group
West Hartford, CT
860.313.4919

Principal

T203.351.4209

F203.708.3803

Principal
Corporate & Finance Group, Family Office and Closely Held Business Group
Stamford, CT
203.351.4209

Principal

T203.351.4308

F203.708.3814

Principal
Private Clients Group, Family Office and Closely Held Business Group
Stamford, CT
203.351.4308

Counsel

T203.351.4276

F203.708.5641

Counsel
Commercial Real Estate Group, Corporate & Finance Group, Family Office and Closely Held Business Group
Stamford, CT
203.351.4276